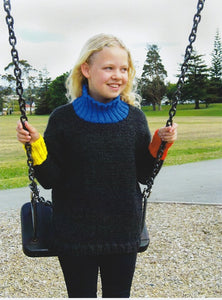 Countrywide Knitting Pattern P244 - Childs Winter Sweater in Chunky / 14-ply for ages 2-10 years
Lovely pullover jumper to keep your little one warm in winter!
Requires  3-4 balls 100g   Chunky yarn (14 stitches per 10 cm) or equivalent meterage. and 1 50 gram ball of 8-ply / DK wool in each of three colours.
| | | | | | |
| --- | --- | --- | --- | --- | --- |
| Approx Age | 2 yrs | 4 years | 6 years | 8 years | 10 years |
| Finished size | 70 cm | 75 cm | 80 cm | 86 cm | 90 cm |
| Main colour 100g balls required:   | 3 | 3 | 4 | 4 | 4 |
| Main colour meterage required:   | 345 | 345 | 460 | 460 | 460 |
| Contrast colour 1 50g 8-ply required: | 1 | 1 | 1 | 1 | 1 |
| Contrast colour  2 50g 8-ply required: | 1 | 1 | 1 | 1 | 1 |
| Contrast colour  3 50g 8-ply required: | 1 | 1 | 1 | 1 | 1 |
---
We Also Recommend