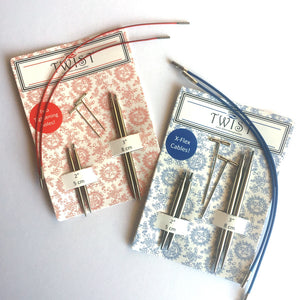 ChiaoGoo - Twist Shorties Combo Packs - Stainless Steel Interchangeable Circular Needle Sets
ChiaoGoo's newest and best idea for sock and circular knitters - everything you need for knitting tight circles on the go!
Make 23 cm through 31 cm circular needles with ChiaoGoo's Combo Packs! 

Sets available in tip widths: 1.50 mm to 5.00 mm. 
Each Pack includes:
1 Pair of Interchangeable 5.00 cm long Needle tips 
1 Pair of Interchangeable 8.00 cm long Needle tips
Solid Surgical Stainless Steel Construction

2 Cables - 13 cm & 15 cm long
2 Tightening Keys  
Bonus: All the tips and accessories in this set are interchangeable with other ChiaoGoo tips and accessories.
Combo Sets 1.50 mm to 3.25 mm come in red packaging; Combo Sets 3.50 mm to 5.00 mm come in blue packaging. 
Note on ChiaoGoo Interchangeable Sizes:
The ChiaoGoo interchangeable systems use the following parts: Tips, Cables, End Stoppers, Adapters, Tightening  Keys, Rubber Grippers and Cable Connectors. Search this website for 'ChiaoGoo' to get the complete range of parts.  
All ChiaoGoo cables and parts are compatible, allowing you to switch tips and parts. Cables and parts are coded [M], [S] & [L].  
ChiaoGoo interchangeables use the following sizing system:  
Mini [M] accessories are used for tips 1.50 mm to 2.50 mm
Small [S] accessories  are used for tips 2.75 mm to 5.00 mm
Large [L] accessories  are used for tips 5.50 mm to 10.00 mm 
---
We Also Recommend