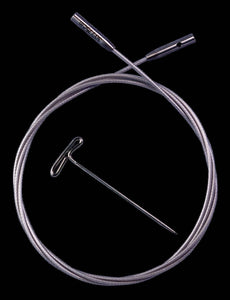 ChiaoGoo - SWIV360 Cables for interchangeable circular needles
The ChiaoGoo interchangeable system comes with four different types of cables - SPIN, TWIST, X-FLEX and SWIV360. This item is only for the SWIV360 cables; to view the other cable types, click here.
Milky silver in colour, the next generation SWIV360 cables have the same properties as our much-loved red and blue TWIST cables PLUS an added swivel feature.
Note on ChiaoGoo Interchangeable Sizes:
The ChiaoGoo interchangeable systems use the following parts: Tips, Cables, End Stoppers, Adapters, Tightening Keys, Rubber Grippers and Cable Connectors. Search this website for 'ChiaoGoo' to get the complete range of parts.  
All ChiaoGoo cables and parts are compatible, allowing you to switch tips and parts. Cables and parts are coded [M], [S] and [L].  
ChiaoGoo interchangeables use the following sizing system: 
Mini [M] accessories are used for tips 1.50 mm to 2.50 mm
Small [S] accessories are used for tips 2.75 mm to 5.00 mm
Large [L] accessories  are used for tips 5.50 mm to 10.00 mm
---
We Also Recommend