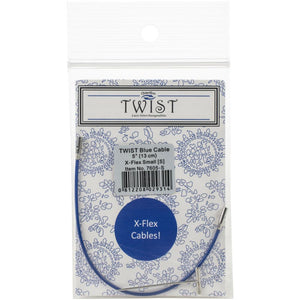 ChiaoGoo - X-FLEX Cables for interchangeable circular needles
The ChiaoGoo interchangeable system comes with four different types of cables - SPIN, TWIST, X-FLEX and SWIV360. This item is only for the X-FLEX cables; to view the other cable types, click here.  
X-FLEX Stainless Steel Circular cables use a flexible, multi-strand, steel cable coated with  Blue nylon that allows your yarn to easily and has NO memory.    

The X-FLEX cables can be used with any of the ChiaoGoo interchangable Small [S] tips and accessories. 
Note on ChiaoGoo Interchangeable Sizes:
The ChiaoGoo interchangeable systems use the following parts: Tips, Cables, End Stoppers, Adapters, Tightening  Keys, Rubber Grippers and Cable Connectors. Search this website for 'ChiaoGoo' to get the complete range of parts.  
All ChiaoGoo cables and parts are compatible, allowing you to switch tips and parts. Cables and parts are coded [M], [S] & [L].  
ChiaoGoo interchangeables use the following sizing system:  
Mini [M] accessories are used for tips 1.50 mm to 2.50 mm
Small [S] accessories  are used for tips 2.75 mm to 5.00 mm
Large [L] accessories  are used for tips 5.50 mm to 10.00 mm 
---
We Also Recommend